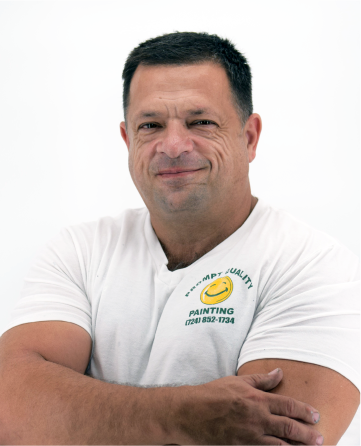 Tim Frye
Owner
Meet the Prompt Quality Team
Experience :

30+ Years

Since :

1993
Personal Experiance
We have a lot of experience working with color, so we understand it. We are able to use various color techniques, such as faux finishing, which can make something look like marble, wood, stone, mossy oak or even wallpaper, using paint. We can help people come up with creative ideas that will look best in their particular living or office space.
For the past 25 years, Prompt Quality Painting, Inc. has been far more than just a painting company. The dedicated staff is proud to be part of a company of innovation, leading the way into the future.
This is proven by their ability to adapt and transform the company's techniques and technologies, meeting the needs of a changing world. Prompt Quality Painting has diversified and advanced in their use of "green" coatings, building products, and processes. Their services include painting, remodeling, drywall finishing, decorating, fire/water damage restoration, and historical restoration. They are also certified in mold inspection and remediation, and perform all of these services in residential, commercial, and industrial structures throughout the area.